Decolonising the library collection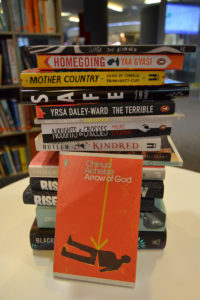 We are continually working to decolonise the library collection and make our resources more diverse so that you can learn from a wider variety of perspectives and cultures.  This blog post from SOAS explains why it is so necessary to decolonise library collections and offer alternative perspectives on history, philosophy and culture.
We are delighted to receive another donation from UPSU of fabulous books by black authors, including many produced under the famous Merky Books imprint to celebrate Black History Month.  We are just processing these brand new books ready before we can put them out on the shelves – look for them on the "new books" shelves in the Atrium soon.  We are also excited to announce that we have just added two anthologies of Kazakh literature to our collections comprising contemporary prose and poetry.  They are as strikingly beautiful on the inside as their covers suggest, so don't be shy to take a look!  They can be found up the wooden staircase on the second floor at shelfmark 894.3453 CON (click here for a 3D floor plan showing the shelf).