Finding everything and settling in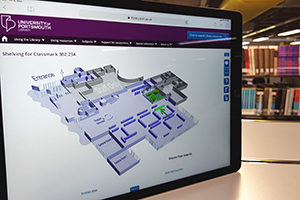 The most frequently asked questions at the Library Help Desk include "Where are the toilets?" and "I need to find these books, usually followed by the ceremonious unfolding of a dizzying list of books apparently recommended for reading in the next two days by some optimistic lecturer.
The good news is that the library that may have at first looked like a daunting cathedral of learning when you first arrived will very soon feel like a cosy second home.  You can find gender-neutral toilets, including accessible and gender-neutral toilets, on every floor.  The even better news is that however you find a book in the library, whether it is on an online reading list, through the library catalogue or if you are just given a title and a shelfmark and told to go hunting, you can always have a 3D floor plan on your phone that shows you where your book should be shelved.
Finding your books
In any reading list or catalogue entry, tap the "Locate on shelf" button for a 3D floor plan of part of the library showing the shelf where you can find your book.  You can find this book finding tool on the Library website under Using the Library > Find your books.  Enter the classmark (shelfmark) number or subject into the correct search box and up will pop a floor plan showing where that classmark or subject is shelved.
Do this on your mobile phone and you can carry your floor plan with you as you seek out the shelf.  If you get stuck or lost our staff will be more than happy to help.  Remember – if you can't make it in or are in a hurry, almost all books on reading lists are also available as ebooks.
For everything else
For everything else, there are short, introductory bitesize slideshows with video clips introducing all our other services and facilities – the Introducing… slideshows.