Stress Less with Steph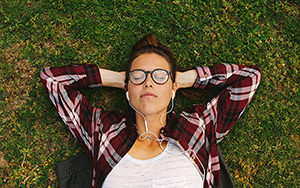 Learning to notice when you are becoming tense and finding ways to relax and think clearly under pressure will make your study more effective and enjoyable.  In just ten minutes a week, you too can learn how to recognise and let go of tension and stress wherever you are.
Stress Less relaxation sessions are running every Thursday afternoon in Library, room 0.26 (Seminar Room 2).  Join Steph from Sports & Recreation for ten-minute sessions starting promptly at 2.15 pm, 2.30 pm or 2.45 pm and learn the life skills of taking a moment to relax, whatever is happening in your life.
If you cannot attend a relaxation session in person, you can always download a similar session from the podcasts and audio file blog posts on Steph's blog, Grounded in Stillness.