Room service
You can book both the library meeting room or any of our eight group study rooms up to two weeks in advance through the library website or by using the room booking kiosk you can find just outside of the turnstiles in the Atrium near the Reception Desk.  Our group study rooms have whiteboards and plasma screens for you to practice presentations, and the Meeting Room has an overhead projector.  Details of what is currently available in each room are available from the online booking system and kiosk – tap on the blue ( i ) icon by each room for room-specific information before booking.  If you are attempting to book a room from off-campus, you must have the VPN set up.  Library staff cannot book rooms for you, although we are happy to talk you through the VPN set up and room booking processes.
Anyone can book a room, the only thing we ask is that at least two people use the room together.  We simply do not have enough bookable rooms to allow single occupancy at peak times.  More group study rooms are available in the Students' Union next door, which can be booked through their Reception/Shop team: call 023 9284 3628 or email hello@upsu.net.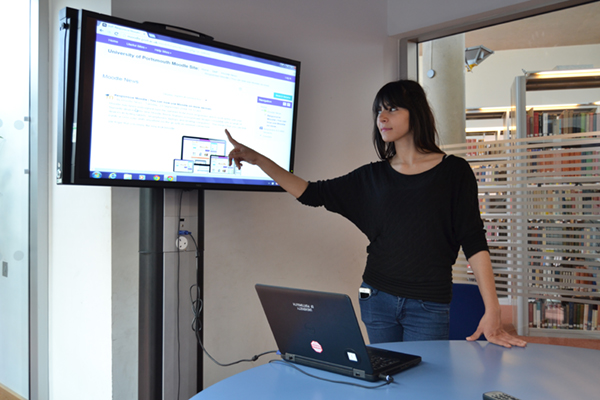 Library room bookings are made for an hour at a time, although any one person can book two hours back to back.  Once booked, you will receive a four-digit PIN number.  Anyone can scan their student card on the door and enter this PIN to gain entry during the first 15 minutes of your booked hour, not just the person who made the booking.  The system will however not allow you to scan in before the hour has started.  If you do not scan in during the first 15 minutes, the person who booked the room will receive an email warning them that they may face a two-week ban from booking rooms if they fail to turn up for rooms they have booked on time.
Click here for more information and to book rooms online.