Borrow a laptop and work the way you want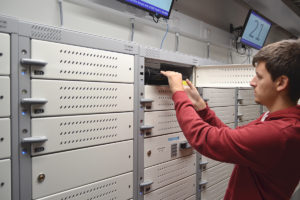 You want to travel light, work flexibly and sit where there is space.  That's why as well as logging on to any of our desktop PCs, you can borrow any one of over 400 full-sized, high power laptops with charging cables, and plug them in across the ground floor of the library, and around the walls on the upper floors.  Just scan your student card across the fob on any bank of lockers and one of them should pop open.  Scan the same fob again and the same locker will open a second time to allow you to return your laptop.  Please plug it back in!
The whole building is covered by a powerful, fast and reliable wireless network, so you can connect all your devices via wifi and crack on with whatever you are doing.  Most ground floor tables have power sockets underneath, while floor and wall sockets are available upstairs, so you never have to worry about running out of power.  You can even plug a laptop into the plasma screens in our group study rooms and practice giving presentations in pairs or small groups (the rooms each hold up to 6-8 people).