Getting started, getting on or getting stuck? Chat to us!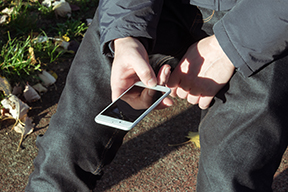 It's good to talk, as the BT advert from before our students were born used to say.  You are not expected to be an expert on arrival at university, and all your new friends (those who want to get on at least) will all be asking frequent questions.  Getting pointers from local experts is a great way to save time and learn new skills that you can then use time and again. Now you can click or tap the blue speech bubble button on the Library website and chat to a librarian 24/7 all year round.
You can also :
chat to us in person at the Library Help Desk in the Atrium
email us (we get back to most people within a few minutes)
fill in our handy web form, which tells us what computer and browser you are using and so can help us diagnose what might be amiss if it is a technical issue
call us by phone, at any time of the day or night that you happen to be working
We can help with everything from finding books and toilets to checking opening hours (that's an easy one during term-time – we open 24/7!), finding academic information and referencing.  Outside our regular working hours, chat enquiries are answered by a librarian-led out-of-hours chat service. So whenever you get in touch, there will be an expert waiting to answer your questions.  We check all out-of-hours enquiries the next working day to make sure you have been given everything you need.
If you are one of those seriously independent people who want to tough it out on their own no matter what, all the answers should be on our new website and the Introducing… pages and YouTube videos should answer most of your immediate questions.  But don't be shy, we enjoy chatting to students and we know what we're talking about, so please get in touch sooner rather than later and let us help you to get ahead.