Tara's post: My week of work experience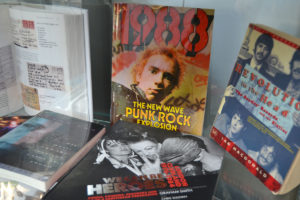 We are delighted to present a guest blog from our most recent work experience student to the University Library, Tara Bell.  Here's how she found Library life, in her own words.
During the summer, I planned a week of work experience in the University library as I was intrigued to how a library would work on a day to day basis, having never seen one behind the scenes.
My week began with a tour of the library, to introduce me to the layout of the building and to get an idea of the overall working environment. I was immediately pleasantly surprised by how welcoming everyone was, which put me at ease and excited me for the following week.
I began working with user services, in which despite the week being quiet I gained a thorough understanding of all aspects put in place to help the students. This included the chat service, card making, enquiries desk and sorter returns. I was also asked to put together a display in an unused glass cabinet about something that interested me. I decided to gather books about many iconic artists throughout history such as David Bowie, Pink Floyd and the Beatles, to share my love for music.
From the middle of the week onwards, I worked with collections management, in which I learned how new and donated books are dealt with and moved to various sections throughout the library. I was able to get an idea of the wide variety of books the library contained and the depth of sorting each book underwent. One aspect of this was the 'Book Nook', in which unused books are available to take and swap with another unused book by anyone who wants to widen their knowledge of literature, aided by the wide variety of books available. This helps to put unwanted books to use, and if after three or so months any books are not taken, they are given to Better World Books. This allows the books to be distributed all over the world, therefore ensuring they will be used and not discarded.
Overall, I really enjoyed my week of work experience at the library. I have gained a large understanding of how a library operates and an increased knowledge of literature.
You can find Tara's display of books on pop culture and recent musical history in the end cabinet nearest the turnstiles in the Library Atrium.