Farewell to the Linda Jones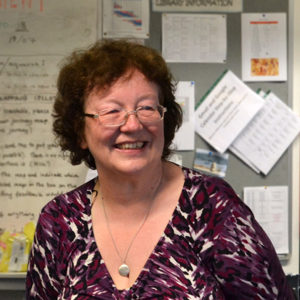 Linda Jones was the law on all things OSCOLA and legal information related here at the University Library for years, providing a dedicated and caring presence for all and contributing to more meetings, project groups, and mentoring schemes than most of us realised existed.  Indeed, Linda was often found rushing from one place to another having sorted out another desperately confused student and trying to remind herself which meeting was next and whether she might have been invited to two at the same time.
A Fellow of the Chartered Institute of Library and Information Professionals (CILIP), Linda made her name as a champion of professional development across the region and has nurtured the careers of many of her fellow professionals.  She was also a staunch supporter of her students, being one of the few librarians who answered messages in the small hours.  Now she is retiring to look after her extended family and collection of murder mystery novels she received as presents from ICJS, Law and Library staff.  We wish Linda all the best in her future adventures.