We love Penguins!
Here at Portsmouth University Library we love a Penguin, and not only Pablo and Pip our library mascots, but also Penguin books. Recently we have been lucky enough to receive a donation of books from a retired University of Portsmouth lecturer who was keen that his book collection be shared with our students.
Among this donation were well over two hundred Penguin books published from the 1930's up to the present day.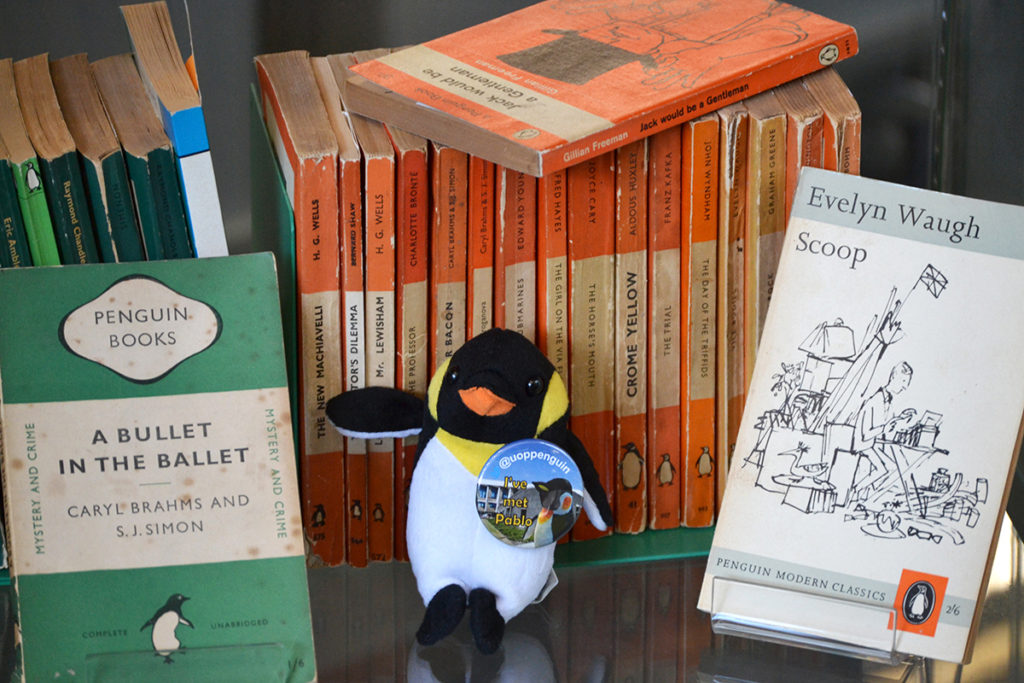 The British publisher Sir Allen Lane wanted to supply books that were affordable and accessible to all and so the Penguin was born in 1935. The iconic design of bold colours and a stylistic unity make the Penguin books instantly recognisable but if you look carefully, the covers do differ and evolve over time.
The Penguin symbol changed several times in the first twelve years.  For example, originally, the Penguin on the front cover is a life-like drawing but later it became a  'dancing' Penguin, at one point the Penguin is highlighted in white and this goes on to become the Penguin encased in orange that we are now familiar with. There are other subtle changes for special editions and illustrated classics.  The typography changes too especially during the Second World War when staff shortages and the economy meant that the quality control was not always in place. The covers are not always orange either. The colour defines the genre with orange for fiction books, green for mystery and crime, cerise for travel and adventure and blue for biography.  The Pelican books with the pale blue cover were meant to be about serious weighty subjects like science, architecture and sociology.
One of the most fascinating details of these books are those with illustrated covers, which reflect current artistic styles and culture.  We have created a display of our donated books in the library to highlight the amazing covers and the iconography of the Penguin Books.  In the glass cabinets in the atrium of the library, we have Penguins with photographic covers, those with ink drawings, etched ones and the very plain un-illustrated but fabulous covers. This amazing collection highlights design at its best.
In the future, some of this collection may be added to our Rare Books stock whilst many are going to be used to inspire and teach in the Faculty of Creative  and Cultural Industries. You will also find some of the collection in our bring and swap 'Book Nook' on the ground-floor. Pick up a Penguin while you can.
Click here for more information about Penguin Books.
You can also borrow this book from the University Library:
'Penguin by Design' by Phil Baines.