It's National Writing Day!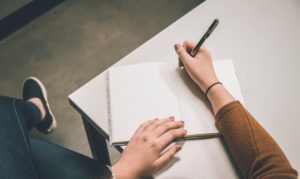 It's 26th June again, which means it must be National Writing Day.  I'm celebrating by writing this blog post.  I might move onto some emails later, and I will certainly be working on a book chapter for a scholarly monograph at some point today.  Writing comes in many forms, from tweets to blog posts to essays to novels… captions in comic strips… I think I made my point some time ago, so I'll move along 😉
The point of National Writing Day is to help everyone recognise that they are a writer, that writing drives our society in the social information age, and that writing for purpose or for pleasure is a truly wonderful thing.  Poet Laurie Bolger is inviting everyone to "freewrite" a seven minute story today.  Sounds like something that could usefully distract you from concentrated work for long enough to reset your concentration – remember the Pomadoro study method?  More short breaks makes for better retention and understanding!