23 wellbeing things. No. 23, Learning from life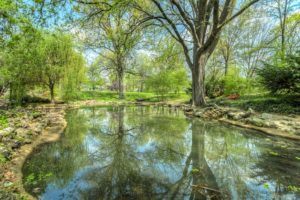 People are a lot like ponds – both reflect without even knowing they are doing it.  Unlike ponds, people can work to improve their ability actively to reflect and learn from life experiences – what went well and what you might change if you did it again.  The habit of reflective practice helps you get to learn and develop, find better ways to do things, and get to know yourself better, particularly how you learn and what causes you difficulties.  This makes you well-placed to overcome those things you once found difficult.
Self-awareness is powerful.  When you know yourself well, you can find ways to handle tasks and people more easily and with less effort by instinctively changing your approach to suit your strengths.  Self-awareness is also now a "soft" skill increasingly sought in leaders and managers.  In short, it is just a good habit to get into, and lets you traverse life more easily and calmly.
A colleague has written a very interesting blog post recently discussing the technical aspects of how to do reflection in more detail.  Probably more detail than you ever wanted to know, but that is typically what happens when you start a conversation with an academic skills tutor!  It's well worth reading or you can find books on reflective practice to relax with at home or in the Library after your exams end.
That's all for now, folks!
That concludes this blog post series.  I hope that at least some of these 23 wellbeing things have been helpful to you, made you think differently about the way you work or given you new insight into creative ways you can squeeze both more fun and success out of life.  Let me know in the comments below if there is anything you do that you find useful or that you would like me to blog on, explore, explain or muse about.