23 wellbeing things. No. 6, A problem shared is a problem halved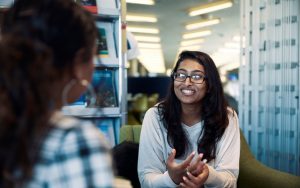 Mealtimes and snack breaks are also a great opportunity to chat to your friends, share your worries and talk about things totally different from what you have been thinking about.  This is also important.  We are all social beings and not talking to others for long periods makes us feel bad.  Take any excuse between work sessions to make contact with your friends.
Listening to the different problems other people have without trying to solve them for them, just showing them you are listening and understand, often takes a huge weight off them while showing you that you are not alone in facing challenges.  It's good to talk, even better to listen and understand what others are saying.  We should all do it more often.  It would make us all feel a lot better.
And if you ever feel unable to share your problems with others, there are counsellors in Wellbeing who are here to listen and support you.