23 wellbeing things. No. 7, You are what you eat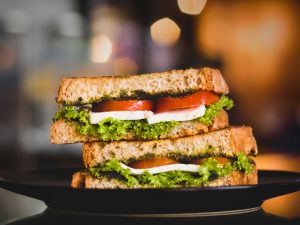 Everyone needs to eat well, and regularly.  Balanced meals including wholegrains, fruit and vegetables to fuel your brain and lean protein to keep you feeling full and support your muscles, are even more important at those times when it feels like you don't have time to look after yourself.  There are a selection of quite healthy foods available from the Library Cafe, the Co-Op is next door, and the University has several other restaurants dotted across the campus, all of which sell (fairly) healthy food to keep you going.  Cafe Coco next to the Students Union sells jacket potatoes and has a fresh salad bar, which is about as healthy as eating out gets.
Eating regularly, taking the time to chew and enjoy your food, and sipping plenty of water while you eat all help you digest your food more easily and get the benefit from it.  "Eating is meditation" as a wise man once put it.  Be in the moment with your lunch, enjoy every mouthful, engage your senses and sink your mind into your body.  Be one with your meal while it lasts.
Work will wait.  It must.  Eating is also important.