23 wellbeing things. No. 2, Take a mindful walk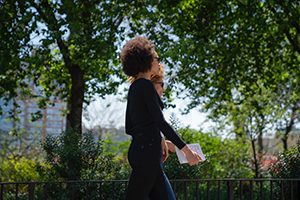 There are few things simultaneously as relaxing and gently stimulating and reinvigorating as a walk through nature.  The varied smells and shades of green, breeze, sunshine or drizzle, the feeling of soft yet supportive ground underfoot and the pleasure of feeling the act of walking shake loose stiffness hidden in the body and allow the mind perspective as it comes to refocus on things outside of the self.
We are lucky to have Ravelin Park on our doorstep in the Library as well as Victoria Park in the town centre and Southsea Esplanade, so green and happy scenes are always close at hand.  This post from the Mindful blog describes a simple method for most quickly letting go and getting the most from your ten minute amble.  Not that there is any wrong way to wander aimlessly in the park.  Having fun is by far the most important thing!