Have you been to Portsmouth Bookfest yet?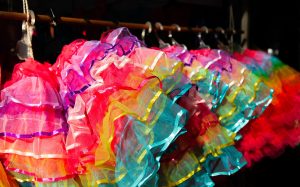 Not our usual blog fayre but it being LGBT+ History Month,
Iestyn Edwards' innovative talk on his recent book "My Tutu Went AWOL" – a prelude to the book by the same name is coming up on 1 March in the Central Library as part of Portsmouth Bookfest.  Apparently a talk of "strong cultural, theatre, music, ballet, LGBTQIA interest", you can earn bragging rights to being in on the ground floor of something about to be made into a feature film, of which Ruby Wax reportedly said 'It doesn't come any better than this.'
When something features an opera recital for Her Majesty in best bib and tucker to touring Iraq and Afghanistan in tutu, tights and tiara and becoming Forces' Sweetheart, dressed down for drying his pink ballet tights on the Basra anti-blast wall, demanding the President of Estonia give the custard creams back to be returned to their rightful camels, and being hoiked offstage by a furious Royal Marines Commando and quartered on the Naughty Tank for his escapades, it would be hard to imagine it is going to be a dull afternoon out at the Central Library.  If you are somehow not intrigued yet, further details are available on the Tutuboy website.
Iestyn Edwards presents "My Tutu Went AWOL"
Friday 1st March, 7pm-9pm in Portsmouth Central Library
Tickets cost £5 and are available from the Portsmouth Bookfest Eventbrite booking portal.
Join Iestyn for an hilarious evening.  Currently being developed as a feature film, My tutu went AWOL is less of a straight book reading, more a cabaret preface. Classical ballet, opera and anecdotal stand up all combine to provide an evening of fascinating stories, song and laughs.
I'm sure the rest of BookFest is just as interesting – and there are certainly many opportunities to develop your creative writing.  Find the full list of opportunities on the Bookfest website.
Image credit  Deleece Cook