Welcome to LGBT History Month!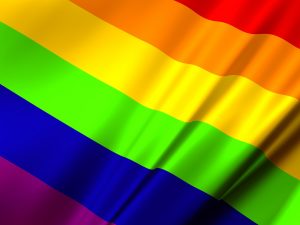 Sorry this wasn't posted last week, but better late than never!
There's lots of exciting things going on this LGBT+ History Month.  Check out what appeals most to you from the choice below.  We're just putting together our traditional book and poster display on the first floor of the Library and will be sharing photos of it when its done.

First Floor Eldon Building Art Display
Ashleigh Beames, second year illustration student at UoP has selected 8 icons of the LGBT+ movement to create a series of posters spanning 8 decades to celebrate their achievements and to inform the public of the successes within the community – in particular, individuals that are less known. Ashleigh said:  "Through my art I want to inspire and uplift the community by highlighting past achievements in the LGBT+ timeline."
Eldon Building lights up rainbow style
Once again, to mark support for LGBT History Month, the Faculty of Creative and Cultural Industries, will be lighting up the front of Eldon Building in a rainbow style.
Lecture – Queer Women Poets in the Age of Modernism
A free talk on 'Queer Women Poets in the Age of Modernism: Photography, Self-Fashioning and Celebrity' by Dr Sarah Parker from Loughborough University will be held on 20 February 2019, 1.00pm to 2.30pm in Milldam LE 1.03. Organised by the Celebrity, Citizenship and Status (CCS) project group, this is a free event for staff and students and a light lunch will be provided. Please email ccs@port.ac.uk to register your interest.
UoP Rainbow Laces
The Students' Union is supporting an Athletics Union wide fundraiser from 4 to 10 February for the LGBTQ+ charity Stonewall, by wearing rainbow laces to show their support of sexual and gender identity acceptance for all. The idea stems from the desire to encourage more LGBTQ+ people into sport and 'make sport everyone's game' (Stonewall). The Union is encouraging all student groups to take part, not just sports groups.
Jack Dranfield, a student who championed the rainbow laces through the Have Your Say platform said: "It is really important to me that everyone who wants to, feels they can, take part in sport at the University of Portsmouth. One way of doing this is for our societies to be open and accepting of every student who wants to join. Showing their support of the LGBT community in such a public way means people who may not know what rainbow laces are, see them and start a conversation. Hopefully, it will also show people that homophobia, transphobia and biphobia will not be accepted in sport at Portsmouth. Wearing your laces to fixtures, nights out and casually means you're being an active Ally for the LGBT students of Portsmouth."  On Pride Wednesday (6 February) groups will be encouraged to dress in rainbow colours and donate to LGBTQIA+ rights charity Stonewall.