Enjoy real action replays of lectures (and parties!)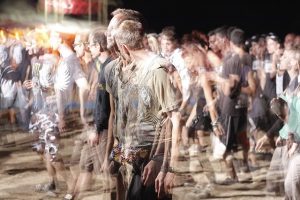 Lectures can sometimes pass in a blur, and so you might find it useful to record what you hear and augment it with photos of whiteboard notes and so on as the lecture progresses.  The same thing probably goes for parties, although then most people are happy to have the night before forgotten.  There are some handy apps for that!
Cogi allows you to record an audio soundtrack from up to 45 seconds before you hit the record button with a single touch and annotate the playback with photos you take in real time – so now you can (with your lecturer's permission) record lectures, capture the whiteboard, lecture slides, photos of images in books and add images notes later as you play it back or record and annotate your own thoughts.
Audio Class Notes (iOS) and Audio Notes 3D (Android) allow you to record and tag the important bits of lectures, so you can jump between them when you come to listen to the lecture again to study or revise.