Faster than a speeding journal: return of the handwritten tasklist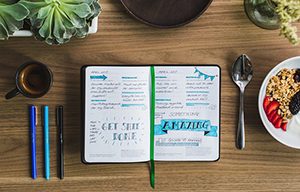 The Faculty Librarian for Technology has characteristically uncovered the least technologically sophisticated way of keeping track of everything you need to do, using a notepad and pen.  The method is called "Bullet journalling".  Combining a simple calendar with monthly task lists, a daily journal, personal goal records and customised lists, this method is a remarkably efficient way to keep track of immediate tasks, requiring only a few minutes a month to review what you have not got done and decide whether it is urgent, can be deferred or just written off and forgotten.  Such is the essence of productivity: the method encourages you regularly to reflect and prioritise, making you more productive and efficient in the longer term.
For the ardent app addict, the method can be easily adapted for use with any task scheduling app that allows you to reschedule tasks for future months and move them between lists.  You might have to hunt for the right app though, because the pen and paper system is remarkably simple to use.
Watch the five minute introductory video
Read (or even borrow!) the book extolling the entire system in all its complexity