Work anywhere at your own virtual university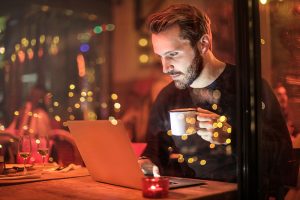 You can enjoy the online campus learning experience at home, out and about or even overseas and still make use of the safe storage and many of the networked University resources over the internet by setting up the Virtual Private Network (VPN) on your personal computers and mobile devices.  The VPN allows you to access resources as if you were on campus, and can be easily turned on and off.
Setting up a Virtual Private Network
Using the VPN saves you having to log in repeatedly to access different resources and often spares you the irritation of service interruptions that often only affect "off campus" access.  Once you have connected to the University network via the VPN, you can also connect to your networked N-drive (and the shared K-drive) and back up our files to the secure university network.
Information Services have produced a step-by-step guide to setting up the VPN.
The Web Proxy Service
There is a second service that performs a similar function: the Web Proxy Service (originally called "Webcache").   The Web Proxy Service involves a simple, reversible, one-time change to the settings of one web browser (Chrome, Firefox, Safari or Edge/Internet Explorer) on your computer.  That browser will then ask you to sign in once each time you open it but will give you access to resources as if you were on campus, meaning you can access everything and sign into individual resources far less often.
Click here for step-by-step instructions on setting up the VPN and Web Proxy services for the Chrome browser.
VPN or Web Proxy?
The VPN gives you access to more services and so is the solution preferred by Information Services, the Web Proxy Service might be more suitable for you if you:
are unwilling or unable to install the VPN software onto your computer*
can only alter your browser settings*
only need access to electronic information resources and not software services or shared network drives
find you cannot access some electronic resources via the VPN (please let us know if you find anything that will not let you in!)
* Often the case if you have to use a workplace computer network.
Want to talk?
If you would like to discuss the options further, are uncertain which solution is best for you or would like to be walked through the set-up procedure over the phone or online chat, please get in touch and a member of our friendly team will be happy to help.