Work anywhere with the VPN or web proxy (updated)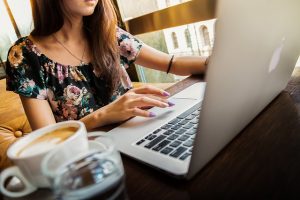 You can use all the library's premium subscription resources from anywhere for free as if you were on campus.  In order to enjoy the full experience, including making group study room bookings and getting to use some otherwise 'campus only' resources, you need to set up either the VPN or web proxy service on your computer.
Click Read more below for details of how to set up the VPN and web proxy services on your computer.
Update 28.09.18 – IS have advised that the web proxy is a much less secure method of connecting to the University computer network than the VPN.  If you are able to download and use the VPN, this is the much-preferred method.  Links to the instructions on MyPort for setting up the web proxy in Firefox (for Mac) and Safari on an Apple Mac computer have been added.
VPN
For most people, the VPN is the best choice.  Download a small piece of software, log in once, and your computer behaves as if it were a university campus computer until you switch the VPN off.  Full instructions for setting up the VPN are available for different operating systems.
The advantage of setting up the VPN is that, in a second step, you can connect to your networked N-drive, which allows you to back up your files to your secure, reliable network storage area.  This is much more secure than saving work to a single USB stick.  I always advise that "many copies keeps stuff safe" – save you work every day in to several places, including your N-drive, to make sure nothing ever goes missing just before the hand-in deadline!
Web proxy
Chromebook users can purchase and install a third party app called "VPNcilla" that will allow use of the VPN.  This app is inexpensive but not free.  For your security, always install apps via the official Chrome Webstore and not from third party websites, particularly if they are offering paid for software for free.
Students who need to use workplace computers where firewall and IT security restrictions make installing software impossible, as well as anyone who really does not want to download the VPN can use the web proxy.  IS caution that the web proxy is not a secure connection and using it might put your password details at risk.  We therefore advise that you change your password regularly if you use this method.  The web proxy offers most of the benefits of the VPN but will not give you access to your N-drive or networked software applications.  You will also need to log in every time you open the web browser you set it up on.  Like the VPN, the web proxy can be easily turned on and off and only ever affects the one browser in which you have configured it.
Setting up the web proxy
Setting up the web proxy is simple: you just need to tell your web browser to use a local area network (LAN) to access the internet and that the address of this LAN is wwwcache.port.ac.uk (via port 80).  The exact buttons to press vary across different browsers but more detailed instructions are given below for the most popular web browser, Google Chrome.  Instructions for various web browsers, including Chrome, Firefox (for Mac), and Safari are available from MyPort.
If you have any questions, difficulties or just want to be talked through the process, please get in touch or bring in your laptop/tablet to the Library and we will be happy to help.  Our online chat and telephone services are available every day 24/7.
Setting up the web proxy using Google Chrome
Open the browser menu (click on the 'three stacked dots' icon).
Choose "Settings".
Search for "proxy".
Click "Open proxy settings".
Click the "LAN settings" button.
Tick the box immediately underneath "Proxy server".  In the address box, type: wwwcache.port.ac.uk (note that there is no full stop after the www).
Click "OK".
Click "Apply" and then "OK" to get back to the normal web browser screen.
Close the browser completely.
Reopen the browser. You should be asked to log in.
Log in to your university account, as if you were logging into Moodle.