I suggest you make a suggestion!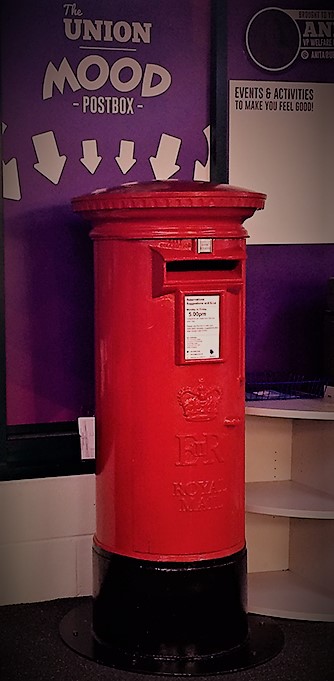 Welcome back and a warm welcome to our new students!
Over the summer we've missed you here at the library. We have particularly missed reading the thoughts and the ideas you add to the Online Suggestion Box found on the Library homepage, and through the postcards you post to us in the postbox on the ground floor (but please don't put stamped letters in the the postbox, it's not a real one!).
If you didn't know, or hadn't realised (I can't believe that's possible) – your Library is driven by student led change. We listen to your ideas and wherever practical or possible, we act upon them. For example, last year you asked for cosy blankets for long, cold nights of study and we gave you blankets (sorry about the boring grey colour). Its down to you that we also kept the study rooms open to create extra space during busy periods in the library; and due to your requests, the ground floor was refurbished and fitted with air-conditioning to  make the library more comfortable in summer. Your suggestions make a real difference.
On the Library Website, you can read the suggestions made by others and you can add your voice to theirs too.  You can even comment on our feedback. Good or bad, we love hearing what you have to say, and often you make us smile – especially when you say nice things like "just keep being you!"