Take a personal tour of the library (wherever you are)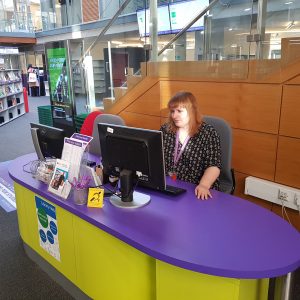 Many people find the library surprisingly large but as soon as you become familiar with what is where it will begin to feel like a second home.  To help you settle in and find everything you need, we have produced a virtual tour you can take online from anywhere and an audio tour you can listen to while you wander around the library, to help you get the gist of the general layout and facilities.
Don't be shy of asking our friendly staff anything, from where to find the toilets to how to find your books.  You can find us all year just inside the turnstiles at the bright and cheerful Library Help Desk and you can ask us questions at any time of day or night through our online chat service.  Give it a go, you might be surprised how much easier it makes you life!