Happy World Blood Donor Day!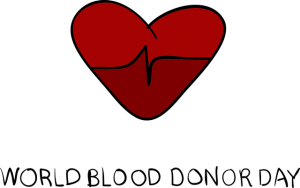 Happy World Blood Donor Day!  14th June each year is when the world celebrates the altruistic actions of millions who donate blood to maintain badly needed reserves of blood and blood products, such as plasma.  Anyone who is injured, falls ill, requires an operation or otherwise needs blood, including hemophiliacs, cancer patients and others with blood disorders rely upon these donations of blood to survive.  The World Health Organisation website explores the role of blood transfusions in more detail.
Blood banks are frequently understocked, sometimes dangerously so, and donors are always in great demand.  If you are thinking about becoming a blood donor, you can find out more here.