From "Gin Lane" to World Gin Day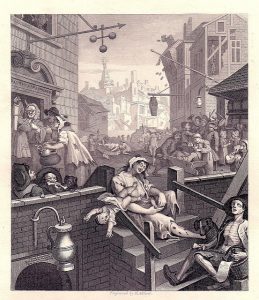 Tomorrow is World Gin Day.  Dubbed "mother's ruin" in Victorian Britain, in a campaign that at one point saw people seriously recommending the "warming effects of beer" over the chill charms of the juniper-scented spirit.  Gin, like all alcoholic drinks, can cause problems when enjoyed to excess or in an escape to drown out emotional problems.  Gin has been singled out for derision historically because it was the cheapest and most readily available form of alcohol, providing unwelcome competition for organised religion as the consolation of the masses.  Slammed in the popular nineteenth century cartoon "Gin Lane" by William Hogarth (right),  which depicts a drunken women slumped in the throws of gin fuelled alcoholism to the point she is blissfully unaware of her infant child falling a great distance from her arms, gin has also featured as the voiceless villain in such films as "The sorrows of gin" (available through our Digital Theatre Plus subscription, link below).  It is perhaps not surprising that the gin industry has since felt the need for a bit of self-promotion!  
If you choose to indulge in a G&T this Saturday, please drink responsibly and in moderation.  If you are concerned about your own drinking or the drinking habits of someone you know, you can always contact Student Wellbeing, your GP, or Portsmouth County Council's Wellbeing Service, which also provides advice and support.
Film and website links
Wellbeing services and support