What can the Enquiries team do for you?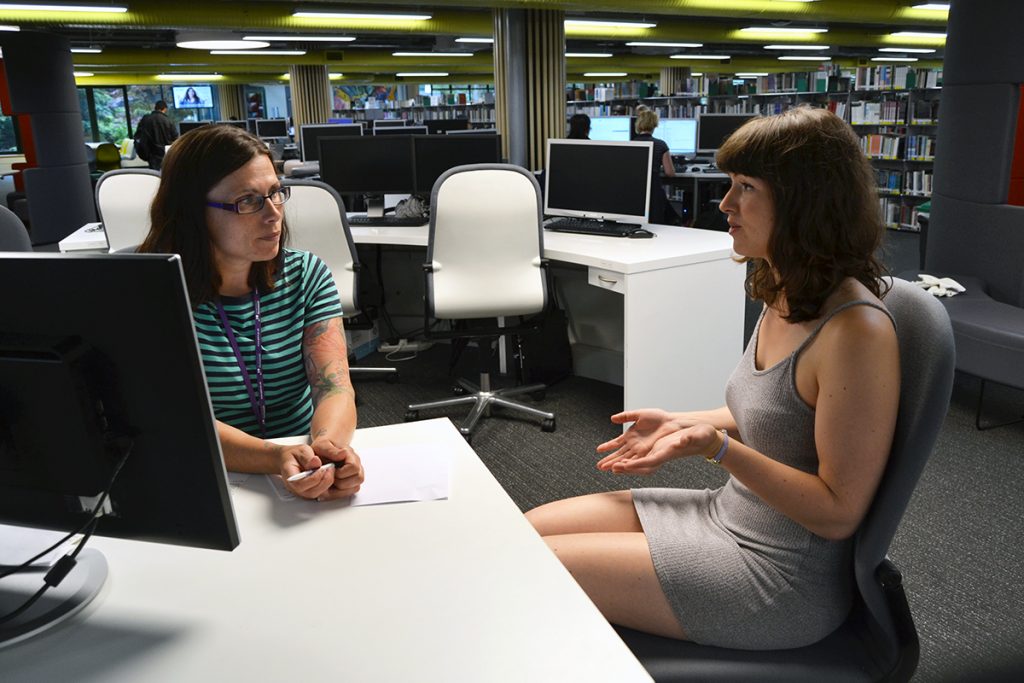 So, you've found your way through the turnstiles, and you're in the Library. Now what?
You may have a reading list.
You may have taken a note of a book your lecturer recommended in the first lecture.
You may just want to find out where books on your subject can be found.
You may not know where to start.
Whatever your situation, Library staff are on hand to help! During these first few weeks you'll find extra staff from both the User Services and Enquiries team in the Atrium area ready to help show you how to find your books, and get your bearings. They're also happy to demonstrate the self-service machines and answer any questions you may have about using the Library.
Whilst staff on the Welcome Desk in the Atrium can help with questions about loans, book location and searching the catalogue, for more in-depth queries about using electronic resources, searching for journal articles, or referencing, you may need the assistance of the Enquiries team. Don't worry about deciding who best to ask though – staff at either desk are happy to help ensure you get the answers you need.
The Enquiries team spend weekday office hours (9am to 5pm) at the Support Services Desk on the ground floor. It's the big white desk where the IT Helpers also sit. They wear purple uniforms, whereas we tend to avoid purple to save confusion. We also have a Duty Librarian who is based in the little office near that desk, in case you have a particularly complex or long question.
What can the Enquiries team help with?
We don't mind at all helping you find books, search the catalogue, or work the photocopier, but we really do relish those trickier, more in-depth questions that get our grey matter working. It's the detective in us, I guess. So if you need some information or journal articles about something really obscure, we'd love to help!
We also really like doing referencing. Weird, I know, because most people hate it, but there you go… If you're having trouble with your referencing, or can't work out how to cite a particular source, we're your people. We're not allowed to proof-read your referencing, but we can cast an eye over any references you're concerned about and offer guidance.
Throughout the year the Enquiries team will be blogging with hints and tips for better literature searching and much, much more… so watch this space!