Artist of the week: Pablo Picasso
"Art is a lie that makes us realise the truth."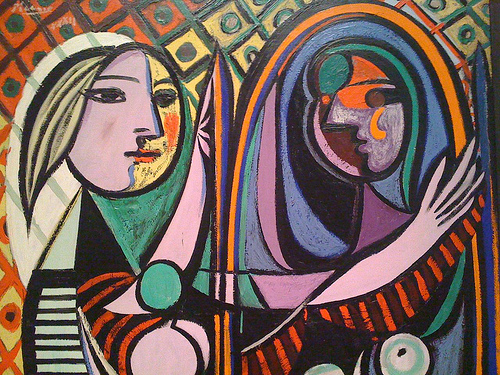 So spake Pablo Picasso, whose highly original work has left an indelible mark on the world of art.  Famous in his own lifetime, his first famous painting was painted when he was just 9 years old.  At 14 he painted what is considered one of the great Spanish portraits.  Later, he co-founded the influential 20th century Cubist art movement with Georges Braque.  You can find books on Picasso and printed reproductions of his works shelved at 759.6 PIC in Area 1B on the first floor, alongside other famous artists.
Although no evidence has ever come to light, Picasso courted controversy throughout his life, with rumours abounding that in his youth he was an art thief, and when the Mona Lisa was stolen from le Louvre art gallery in Paris, police considered Picasso a leading suspect.   Picasso was certainly never a dull figure.  Historian Arthur I. Miller reportedly wrote that Picasso carried a revolver filled with blanks that he shot at people who bored him!  There's a metaphor for exterminating boredom if ever you wanted one!
Looking further
Here are some links to free more online resources about Picasso:
If you want to explore modern art further, why not check out our books on Picasso shelved at 759.6 PIC in Area 1B on the first floor or take a look at our premium art image resource ArtStor?
Photo by Nathan Laurell