Designs on library books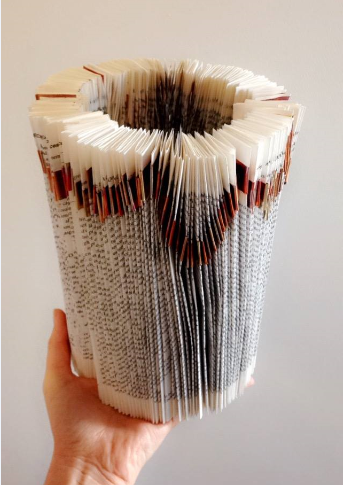 You may have seen some of the fabulous displays of artists's books and books from the library collections in the cabinets opposite the Eldon Art Shop. Well, 2nd year illustration student, Naomi Price, created one of her own. The library is always reviewing its book stock, replacing old editions with new, and Naomi took advantage of this in sourcing books for her project. She told us, "I'm currently doing a project on 'book works' and looking at the life of stars and how information and light travels and so am interested in working with old books and old information." You can see an image of her work here. "The coloured  patches are burnt copper and there are descriptions of how a star is formed in the space between the pages." We are delighted to see the end result so thank you for sharing it with us Naomi.
If you want to see more examples of student work, don't miss the CCi Graduate Show which starts with the preview this Friday. Good luck those of you taking part! You can catch the latest display of Mail Art in the Eldon cabinets too  – another joint venture with the library. There is even more in the Illustration studio. Find out more on Twitter @UniPortCCI.