What do the Enquiries team do?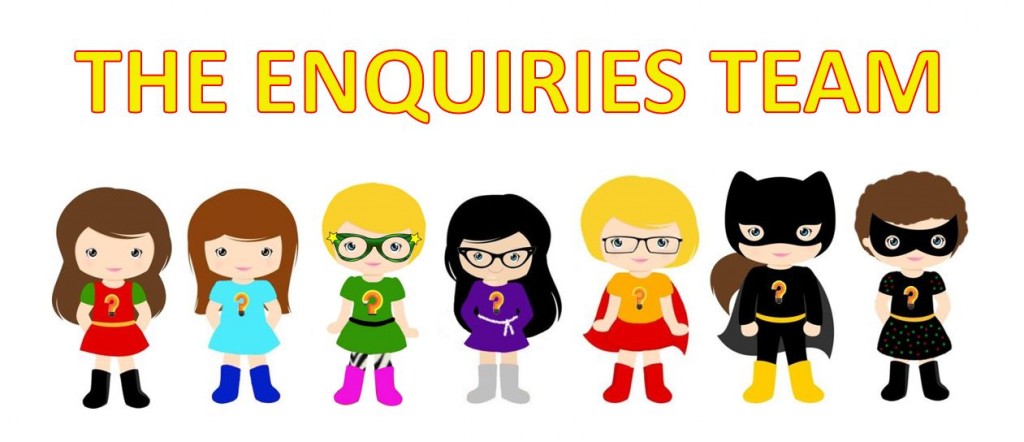 The Enquiries team have been doing something unusual this week. We've been talking about ourselves.
This isn't something that comes naturally, and it can seem a bit awkward, but as part of the Library's staff development programme, we've been presenting sessions to explain to our colleagues across the service what we do, how we do it, and why. Now we've told our colleagues, we thought we'd let you know too, in case you'd ever wondered.
We started out with a bit of background; how the team was formed back in 2011, and the reasons for structuring it the way we do. We also took the opportunity to say a massive thank you to all the people from other teams who help us to provide our services to our clients – without whom we'd never be able to do what we do. It's worth saying that again here. THANK YOU colleagues for your time, your effort, and your flexibility. We really do appreciate the help you give us. We also explored the role of our evening and weekend team members, whose experiences can differ from ours quite significantly, and looked towards the future, and some potentially exciting new developments.
So what DO the enquiries team do? It might seem obvious, right? We answer enquiries! (D'oh!) But we also do a lot more, and it's this other, slightly hidden or less visible work that we wanted to highlight.
In summarizing our present, some statistics were used to paint a picture our day to day work. So far this academic year, a whopping 58,665 face to face enquiries have been answered in the Library, in addition to the 4230 emails we've answered, and the 890 online chats we've had. We couldn't pull out statistics for phone enquiries for the same period, but from January to December 2015 we had 5870 of those too. So as you can see, we are answering a LOT of enquiries. Surely there isn't time for us to be doing anything else?
But there is! There are times when we might appear to be sitting at our desks in the Academic Liaison office area, staring at our monitors or tapping furiously on our keyboards. Sometimes we might also be spotted slaving over a hot photocopier or even out and about taking photographs. There are a whole powerpoint screen of things we do when we're "not on an enquiry desk" (see proof below!).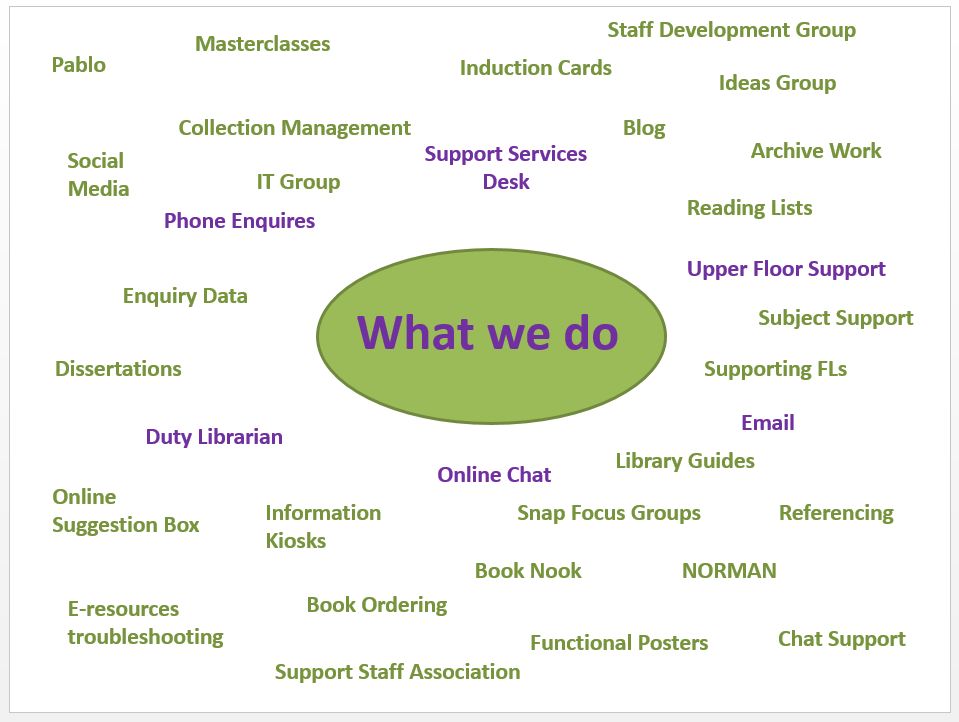 In the sessions we asked our audience if they could tell us any of the additional things we do. Some could, some couldn't. Some things were recognized, some not. So the sessions appeared to be timely and useful. Feedback was positive. And if you're one of our colleagues and are reading this, and you didn't come along… there's still time as we're running it once more, next Friday morning!