The Tale of Library Cat (and his penguin reviewer)…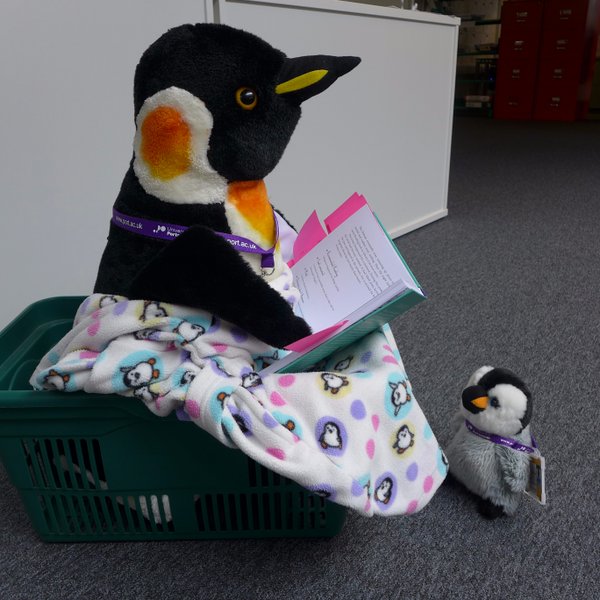 He's black and white, soft, and walks closer to the floor than most visitors to his library. No, not Pablo our resident penguin, but Library Cat, frequenter of Edinburgh University Library. Just like Pablo though, Library Cat *does* have a unique take on all things "Academic Library"… and today sees the publication of his very own book! We weren't keen to give Pablo ideas (a whole book about him, can you imagine?), but we did think that maybe he'd be interested in reading about the adventures of a fellow furry bibliophile whose experiences may not be that far from his own. And so, when Black & White Publishing so kindly offered to send him a copy to review, we allowed him some extra basket time in which to settle down, read, and inwardly digest…
The following words are entirely his own.
Chapter 3: Freshers. Ah, the familiar quiet before the storm, followed by the hustle and bustle of a foyer full of students. Oh Library Cat you have captured it so perfectly; the hum of electrical devices, the wall-mounted screens of information, the daunting height of staircases designed for those with far larger strides than us. Your librarians, forthcoming with their bacon scraps, could teach my companions a thing or two though, because mine never come prepared with any mackerel.
"Just because we don't speak doesn't mean we're incapable of thought", you say on page 25, and I find myself nodding enthusiastically. Without the help of keyboards (and even then it's a particular struggle) communication would be a trial for me, but this doesn't mean I don't have thoughts. Oh no. The thoughts are all there. All there. Here. Somewhere.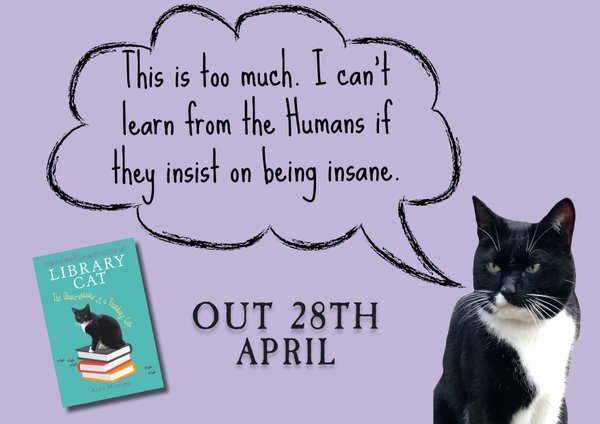 My pebble seat is, dear Library Cat, is much like your turquoise chair. Mine. And yet perched upon by my students and other visitors. I've never resorted to marking mine in *quite* the way you have (and which I won't mention here to remind you of the shame), but I can relate to the wide-eyed rage you describe so effectively upon seeing your preferred perch so "cavalierly" sat upon. Sharing is a skill, which, despite libraries being based upon it, comes slowly and painfully to both us library-dwelling creatures and our students.
Chapter 15: Overdue, is a particular joy to read. Such an eloquent way of exploring the concept of the library borrowers responsibility. A cautionary tale for anyone who borrows books (intentionally or otherwise) for other people. A very clever chapter, my feline friend, and one which I'm sure your librarian friends appreciate for it's moral if not it's detail.
On page 78, in the aftermath of essay deadline panic, a student is depicted asking whether the thoughts of Library cat are "academically citable". I don't know if this counts as academic work, but here's a fabulous (and typical) quote, just for the purposes of citation…
"To the right, there was a desk of Humans that looked important. On busier days, these Humans sounded a bell and barked in incandescent rage at every fourth or fifth Human attempting to leave, barring them from freedom and jabbing their fingers accusingly at the student Human's rucksacks. It's much easier being a cat, thought Library Cat, as he slipped under the glass doors and into the foyer" (Howard, 2016, p.24).
Oh Library Cat, your book is a delight. A veritable feast of amusing anecdotes and pleasing ponderings. If you were to find your way Down South, I'd like nothing better than to share a mackerel dinner with you.
References:
Howard, A. (2016). Library Cat: The Observations of a Thinking Cat. Edinburgh: Black & White Publishing.