Riled by referencing?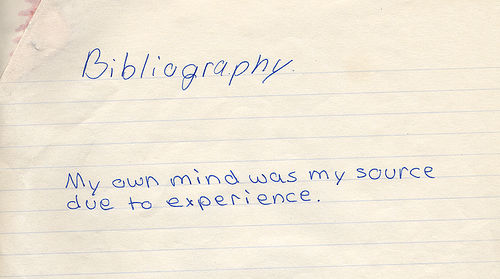 As deadlines approach, our sessions on the enquiry desk, online chat and library email are becoming filled once again with referencing queries. We don't mind – quite the opposite in fact – and we're happy to help with any difficulties students are experiencing.
Many students may wonder why they need to reference, when it seems such a tricky thing to do.  Well, there are several reasons: to give intellectual credit to your source, to help your reader recover your source easily, and to avoid being accused of plagiarism. Whilst these are all very good reasons, students usually place most weight on the last one, as it can have serious academic consequences.
On reflection, the majority of referencing queries seem to come from not knowing exactly what the source being used actually is. This isn't as bonkers as it sounds. If you've got a book in your hand, written by one person, about one thing, then you'll probably be quite confident in identifying it as a book, and following the guidance in our leaflet or on Referencing@Portsmouth for referencing books. But what if you've found it online? It could be a journal article, which you found using a database, or it might be a company report, found from a company website. It could be a government paper, a piece of legislation, or even a blog post. Deciding what the thing actually is can be the hardest part of working out how to reference it! Interestingly though, looking at the information needed for the reference can actually sometimes help to identify what something is. How? Well,  for example, a journal article will have volume and part numbers and a page range, as well as two types of title (article and journal).
So where do you find the details needed in a reference list?
Obviously we always advise students to keep a careful note of all sources used as they prepare their assignments…
"Record all the details you need about a library book (including page numbers for any quotations) before you return it – someone else may have the book if you try to go back and check later.
Make sure you write down the source details you need on any photocopies you make or that they are properly aligned so that page numbers and headings are clearly visible.
Remember to print or save details of any webpage you want to refer to (your tutor may ask to see this) and record the date when you accessed the information."
…but we all know that in real life, this doesn't always happen. So how can we find the information after the event? Here are a few ideas…
The details needed for a book can be found on the front and back of the title page. Ignore any reprint dates; you need the date when the first, second, third edition, etc. of the book was published, according to which edition of the book you are using.
Make sure you locate the name of the publisher rather than the printer or typesetter. You need the name of the publisher in your reference list.
The place of publication should be a town or a city, not a county or country. If in the UK, just the town or city. If in the USA, the town is unlikely to be mistaken for a place in UK, but add two letter state code if confusion could arise e.g. Cambridge MA for Harvard University Press. If more than one place of publication is listed, just choose the first one. The library catalogue gives the place of publication and publisher's name, if you are in any doubt.
If you haven't got the book, it is probably best to try and retrace your steps. If it is an item you borrowed via the library you can look at your loan history under My Account in the library catalogue and check basic details. If it is something you read in the library check the catalogue for details. If you obtained the book from another source, www.copac.ac.uk is useful for verifying bibliographical details.
The details needed for a journal article can usually be found on pages which contain the article, but you can also check the contents list or front cover of the journal issue.
Access electronic sources again directly by retracing your steps through the relevant e-book collection, e-journal article or database.
It is very important that when you use general Internet sources, other than facsimiles of printed articles or books, you record at the time the full details, including the internet address (or URL). Sometimes a look through your browsing history can help uncover what you were looking at, assuming you're working on a personal computer, laptop or tablet. If all else fails, try phrase searching a quote from it (if you have one) in Google – you'd be surprised what you can find this way!
For Films or DVDs the details you need can be more difficult to identify, but the first resort is again to examine the original item.
More information on feature films can be found on IMDB (Internet Movie Database), and the fullest details can be found by using the combined details link for a specific film. If you are tracking a specific DVD edition of a film to identify extras you may find the merchandising link useful.
For television and radio programmes or recordings they can be more difficult to identify, but the first resort is again to examine the original item. Television and radio channels may publish some information on their websites, but tracing details of these after the broadcast can be tricky. The best source of information is TRILT (Television and Radio Index for Learning and Teaching) which gives details of television and radio programmes schedules from 2001 onwards for over 330 different channels plus a substantial selection of terrestrial television programmes back to 1995. However, this may not give you responsibility data. A general web search with what details you do have may help track down a source for details.
Photo by papertrix