Pluralsight Creative – the new name for Digital Tutors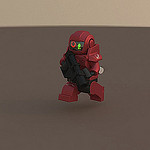 Pluralsight Creative? Will that ever catch on?  Perhaps it is only difficult for those of us familiar with its old name, Digital Tutors.  Whatever the name students, particularly those in the School of Creative Technologies, will love this resource.  It is an online CG training library for a wide range of software including: 3ds Max, After Effects, Backburner, BodyPaint 3D, Cinema 4D, Composite, Design and Art, Dreamweaver, finalRender, Fusion, HDR Light Studio, Houdini, Illustrator, InDesign, MatchMover, Maya, Mental Ray, Mocha, Modo, MotionBuilder, Mudbox, Nuke, Photoshop, Pixel Bender, RealFlow, RenderMan, Shave and a Haircut, Softimage, Stitcher, SlyFlex, V-Ray, Visual Guide, XNA and Z-brush.  In fact there is training for 117 different software packages.
To access this resource for the first time, follow the link to the library catalogue record, then take the First time users click here link.  You will be re-directed to the off-campus password page where you login with your usual details.  Scroll down or jump to the 'p's and follow the link.  You will need to select the tab Join Univ. Portsmouth Group and follow the instructions.
The University Library provides access for 10 simultaneous users, so if you are unable to sign in you may be the unlucky number 11 so will have to wait for a while.  Do remember to sign out when you have finished using the resource.  Enjoy!
Photo by HJ Media Studios