Going around in circles?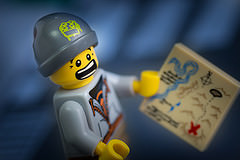 After the long quiet of a typical University summer, it's always invigorating to see new Freshers and returning students flowing through the doors in these first few weeks of semester. We've stocked up the guide stands, replenished the supply of free pens, and stand poised to help with all those teething problems and directional dilemmas that typify the time of year.
As in previous years, we have staff positioned at reception, on our welcome desk, in the atrium and at the support services desk. This year though, we consciously upped the amount of "roaming" support being offered around the building, with the upper floors receiving the greatest proportion of this. Roamers are equipped with an instantly recognizable lanyard and a tablet on which to record query statistics and provide an instant "look up" service for shelf-marks and other information. Members of the Enquiries team are working alongside colleagues from User Services to provide this extra presence out on the floors, amongst the stacks, bringing answers to where the questions are rather than waiting for them to come to us.
We hope that this service is valued by our readers, and that it helps during their transition from carefree summer days to studious autumnal evenings. It's certainly proving valuable to us as staff, making us so much more aware of what's really going on away from the traditional enquiry points. We're not watching people, we're observing reader behaviour. We're not eavesdropping, we're finding out what people are asking each other, and where questions are arising. This is all incredibly valuable information which will feed back into our on-going service improvement conversations. There are some extra things we are doing while roaming though…
Picking up litter, most of it food-related. It would appear that many of our readers have "eyes bigger than their bellies" (as my Nan used to say) judging by the amount of half-eaten sandwiches, fruit and crisps they leave behind.
Reminding people to scan in to their group study room bookings. Yes, rooms need to be booked. And then claimed. It's a little thing, but in a couple of weeks they'll thank us for helping stop them getting a "no show" related suspension…
Refilling guide stands. This is good. Guides are good, especially when they are being used!
Collecting up random objects that have been left behind. Lost property is booming! We're still not convinced that plastic tubs of rocks belongs there though…
So, if you see a member of library staff wandering around the building clutching a tablet, eagle-eyes wide open and ears pricked up as if to sense danger, don't panic, they haven't had too much of a well-known brand of energy drink, they're merely developing our services in a pro-active and dynamic way!
Photo by clement127