Sounds of our shores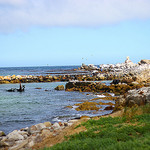 Record your local sea shore for posterity!  The National Trust has invited everyone to record sounds of the UK seaside to form an audio archive.  Busy ports resounding with man-made sounds are as welcome as sounds of nature.  The "Sounds of our shores" project is intended to offer future generations an audio snapshot of our coastline today.
You can record the sounds of the shore on your smartphone and upload them using the AudioBoom website or app.
Recordings will be uploaded onto a digital map curated by the British Library and made into a musical composition for release in February 2016 by Martyn Ware, one of the founding members of The Human League and Heaven 17.
It said the sounds of the coastline were constantly changing and the project would create an audio snapshot for future generations to hear.
Read more on the BBC News website.
Photo by sdhansay