In the end, it's all worth it. And here's why…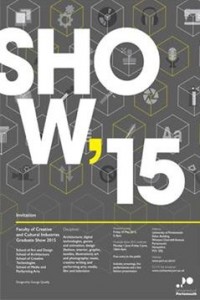 It can sometimes be difficult, separated as we are from departments and the assessment process, to place our work as enquiries staff into the wider context of academic output and achievement. Sure, we see essays and dissertations on screens as we pass the computers around the Library. We see them pouring out of overheated printers as deadlines approach. We even see fragments of posters and art works as they inch their way out of the large format printer into the basket below. But we don't often get to really stand back and appreciate the whole, rounded, fully-formed products of all the endeavour we strive to support.
So it was with great interest that I and the rest of the core enquiries team set off on Wednesday afternoon to visit the Faculty of Creative and Cultural Industries Graduate show.
Bringing together work from Fashion and Textiles, Entertainment Technology, Digital Media, Music and Sound Technology, Motion Capture, Computer Games, Computer Animation, Film Studies, Television and Broadcasting, Creative Writing, Architecture, Interior Design, Photography, Urban Design, Fine Art, Illustration, and Graphic Design (if I've left anyone out I apologise!), the show marks the end of the students time with us, and celebrates their work in a public and professional way. One of the things which struck me straight away was the way the students had created an identity for themselves and their work, with business cards, flyers and in some cases even products available for sale. The transition from student to professional was there, right before our eyes, in a way that makes me sure that employability was a very important and successful part of their courses!
Much of art appreciation is subjective, and we each found different elements to be attracted to, intrigued by, and challenged by. Each discipline contained enough variety for us each to find something to love, and something to take away and think about. I believe one of us even bought something.
A personal highlight for me came from Gina Hankin as Illustrations by Titch (http://titch82.tumblr.com/), whose final project is "a series of toys, t-shirts, miniature artist's books, and a main novelty children's book with moving and interactive parts that tell the story of a 'Ship's Cat' from WWII that served on three different battle ships and survived being sunk three times. It is intended to be one of a series aimed to educate children of Animals involvement in Wars."
I was also particularly moved by Charlotte Purnell's photograph "Forcibly Fed" (http://www.charlottepurnell.com/forcibly-fed-1/), which was part of the Photography show. A initially seductive image, perfectly lit and framed, the warmth of colour and pull of interest was turned with a sharp jolt into something else entirely when I read the associated text. A thoughtful, careful and emotive interpretation of the forcible feeding inflicted on imprisoned suffragettes in the early twentieth century, the image stayed with me long after I left the show.
I can't in all honesty remember whether I've ever spoken to Gina or Charlotte, or any of the other individual students whose work is on display this week. Probability suggests that over the time they've been here I might have done, at least once. I'd like to hope that if I did have occasion to, whether it be to answer a question, give directions or advise on referencing, that I helped in some small way to make their successful journey through their course and outward towards the outside world easier.  Because that's what we are here to do.
Not every course lends itself to an end of year show. Not every course has products so "display-able". Sometimes I've been known to leaf through a dissertation with an intriguing title that arrives to be added to stock. And of course, we see the traditional procession of be-gowned and mortar boarded graduates heading to and from the Guildhall for their ceremonies each July. But walking around the Eldon Building made me reflect on whether I should be seeking out more opportunities to appreciate the end results of all the long nights, frantic typing and the constant whirring of the book sorter. As a motivator, it's pretty much unbeatable.