Creative Arts Book of the Week 04/06/2015
In a slight change to our usual routine, this week's Creative Arts Book of the Week has been chosen and reviewed by Pablo, our friendly library penguin…
Animals, by Camilla de la Bédoyère, is a beautiful new book of illustrations which I defy anyone not to be inspired or impressed by. It's currently sitting on the new books display on the ground floor of the Library, but its permanent home will be at 741.642 DEL, which is on the first floor.
Pages are themed by colour, by pattern ("all sorts of spots"), by feature ("weird ears") and by number ("80 penguins" is my favourite page!). Each contains veritable menagerie of creatures,  illustrated in a way that is reminiscent of old-fashioned zoological drawings.
I can imagine parents and children reading this book together, discussing the animals, comparing their features. But I can also imagine students using it, such is the quality of the illustrations. Whether to identify the proportions of the creatures, or to find inspiration for their own art, I can see this book being a popular one among a whole range of people.
There are some especially detailed illustrations of fish; a bluefin tuna on page 28 actually made my tummy rumble, and page 37 reminded me of a really posh dinner party I wasn't invited to… but there's something here for everyone, even people who like spiders (if you don't, avoid page 9!)
If I had to sum out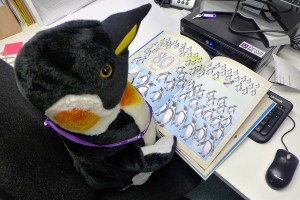 what this book demonstrates in one easy sentence, it would be "how to illustrate perfectly without the use of photography". Yes, it's that good!
I was interested to find out something about the lady who put the book together, and wasn't surprised to read that she had exhibited an early fascination for science, and studied Zoology at Bristol University. I'd guessed from the range of animals included in the book that she had this kind of background – who would think of including an Aye-aye on a page entitled "interesting eyes" if they hadn't worked in a zoo? The internet tells me she has written more than 200 non-fiction books, specialising in the natural world, and that most of her books are written for children and young adults. She is also currently the Children's Editor for the Sunday Express. The internet also tells me she has published a book very similar to this with the title "Beautiful Beasts" which contains extraordinary creatures, past and present, extinct to mythological, from dinosaurs to unicorns. I wonder if it contains any penguin librarians?