Case of the missing teaspoons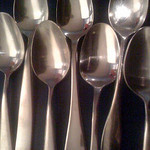 Our Library coffee room seems to be some sort of black hole for teaspoons. Someone supplies a fresh batch, and in no time at all, everyone is fighting over the sole survivor.
But it seems we are not alone, and some research has been applied to the problem resulting in an article in the distinguished BMJ. As the researchers are Australian we assume that our limited NHS funds have not been diverted to this project.
http://www.bmj.com/content/331/7531/1498 (note: this link is to a subscribed journal, so won't work outside the port.ac.uk domain)
Photo by buddyat40