Digital Theatre Plus Trial starts today!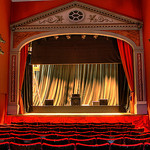 Aimed primarily at performing arts students, this video database may also be useful for those studying English literature or media studies. Follow the link below to access the latest filmed theatre productions, including The Crucible with Richard Armitage, Into the Woods by Stephen Sondheim, Lesley Manvill with her Olivier-Award performance in Ibsen's Ghosts, Don Giovanni from Opera North and Shakespeare's Much Ado About Nothing, starring David Tennant and Catherine Tate.
You can also view collections such as Broadway Digital Archive, Perfect Pitch, Glyndebourne and Shakespeare's Globe.  Many of the performances are accompanied by study guides.  These include, Sondheim's Merrily We Roll Along and Comparing Comedy: Love's Labour's Lost and Much Ado About Nothing.  For those wishing to know more about a career in the theatre, then the making theatre section will be invaluable.
Access from the link below or find it on the  Performing Arts My Subject Page until 15th June.
Users will be automatically logged in on campus, but a username and password is required for off-campus access.  Find this on the off campus access page.
Your feedback is important in prioritising resources for purchase, so please let me know what you think.  Leave a comment here or contact greta.friggens@port.ac.uk
Photo by Alan Cleaver