2014-15: All served up on a commemorative plateful of learning…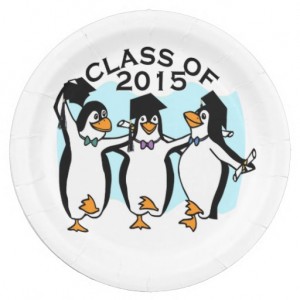 A few months ago, you may remember me telling you about the regular training sessions we have for staff here in the Library. I reflected on a referencing session, and why it was important for us to both update our skills and be reminded of how it feels to be a student.
Well, at the end of each "term" (we're still quite attached to those you know), we have a more light-hearted session, about a topic less obviously library-related. It gives the presenters a chance to refresh their research and performance skills, and offers the opportunity for them to share some of their knowledge and enthusiasm for a subject with their colleagues. It may be unsurprising for you to learn that this frequently also involves the sampling of food!
This mornings talk took in the geological origins of pottery manufacture in the UK, the industrial revolution, plate collecting, royal memorabilia, kitsch, and anti-plate fashions in contemporary restaurant culture. Quite impressive for an hour, I think you'll agree – and even more so when you throw in edible seaweed served in a miniature shopping trolley and pie on a cymbal…
We realise we are incredibly lucky to be able to have these sessions, and the presenters always strive to include relevant library resources in them wherever possible. Today, for example, the Map Library provided geological mapping, the online newspaper archive provided stories with which to illustrate timelines, databases provided facts and statistics, and finally books were used to suggest further reading. Yes, you read that right, there were even books involved!
We learnt about the perfect geological coming together of coal and clay in Staffordshire which facilitated the growth of the Potteries, about the development of plate collecting as a mirror of consumerism and aspirational lifestyles, how the death of Diana, Princess of Wales saw an explosion in commemorative ceramics which dwarfed everything in the previous long line of royal memorabilia, how easily a William and Mary commemorative plate can be mistaken for one depicting Brian May and Anita Dobson, and how you must never, ever, ever eat anything off a plate which has come from the Bradford Exchange. It was entertaining, it was informative, and it reminded me how much I like learning.
Which brings me rather neatly to what I *really* want to say.
Tomorrow sees the official end of the 2014-15 academic year. Already we are seeing our students leaving for the summer. Halls are emptying. Cars are being packed up with duvets and posters. Some are going home the summer. Some are leaving for the last time. And I want to say well done to all of them. It's easy to forget, amidst the sea of paper trimmings, crisp packets and empty cans of Red Bull* just what an achievement the end of a year at University is. Whether they're graduating or returning to continue their studies, every student has done something amazing, and I hope that enjoyment has been a big feature of the learning experience.
So well done everyone. Well done students. Well done staff. Well done to everyone who has helped make this year another successful one. Let's make next year even better!
*Other brands of energy drink are also available