Today in 1509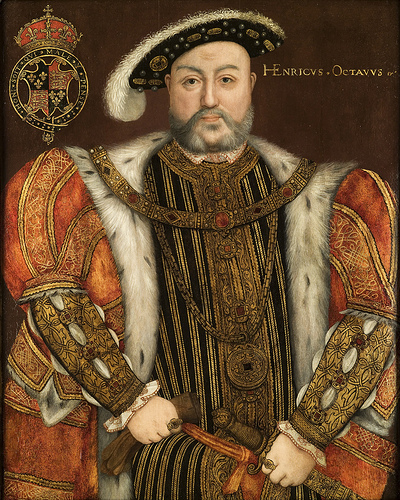 Today in 1509, Henry VIII ascended to the throne of England upon the death of his father Henry VII.
Slim and athletic for most of his life, until a jousting accident ulcerated his leg in his mid forties left him increasingly disabled. Comfort eating saw his waist expand from 32″ to 54″ in just four years following the accident.
Fastidious and prudish, despite taking six wives and numerous mistresses who liked to dine in private opulence, ceremoniously washing his hands between courses. It was his first minister, Thomas Cromwell who enjoyed throwing lavish parties.
One thing popular history acknowledges accurately is Henry VIII's increasing ill temper and paranoia. In the later years of his reign he ordered the execution of more people than any other monarch.
The Tudors
Henry VIII was the son and successor of the founder of the Tudor dynasty, Henry VII, also known as Henry Tudor.  The Tudors reigned until Henry VIII's daughter, Elizabeth I, died unmarried and childless in 1603.
The Wars of the Roses were still very recent history, having been effectively ended by the victory of Henry VII over Richard III and the subsequent crushing of rebellious nobles with the threat of ruinously heavy suspended fines.  Desperate to avert another civil war, a messenger was apparently dispatched while the old queen still lived to offer the crown to James VI of Scotland who swiftly arrive to accept the offer and become James I of England, founding the Stewart dynasty.
Photo by lisby1