Great view of the eclipse? Or was it eclipsed by cloud cover?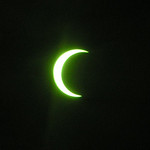 Sadly here at UoP there was no sign of the sun all morning (only for it to emerge at lunchtime… <sigh>), but there was excitement anyway.
If you were disappointed by the weather this morning but are intrigued to explore further, or if you had great views of the eclipse and want to know more, these sites have been sent to TOTD:
http://www.theguardian.com/science/live/2015/mar/20/solar-eclipse-live-updates
http://www.telegraph.co.uk/news/science/11473475/Solar-eclipse-Key-facts-and-figures.html
http://eclipse.gsfc.nasa.gov/eclipse.html
If your appetite has been whetted for the next event, this site will tell you about solar and lunar eclipses for the next 10 years
http://www.timeanddate.com/eclipse/list.html
but you can also look back in time. We've been able to find out, for example, that Reden experienced an eclipse in Africa (also on overcast day) on 4th December 1983 which would explain why the temperature suddenly dropped around lunchtime.
Also of interest:
http://www.space.com/
Photo by f.larre