Refreshing Referencing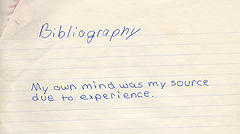 We know from the number of students asking us about it, that referencing in essays and other assignments is something they often find daunting and complicated. But how many of you knew that in order to help us to help them even better than before, we have regular workshops to refresh and develop our referencing skills?
Last week, a room full of slightly nervous library staff (myself included) were treated to an hour on OSCOLA, the referencing system used by Law students, and also by some students whose courses contain small amounts of law in specific units. Mastering one referencing system is bad enough, but these students have to contend with using two, sometimes in parallel essays. Imagine referencing one essay with APA and another with OSCOLA, when both have the same hand in date! Pondering this even for a few moments made us all feel infinitely more compassionate towards these students!
OSCOLA is very different to the APA system which the majority of students here use. While APA requires you to decide precisely what the item you're using is (be it book, journal article, film, image, tweet…), OSCOLA only asks two questions. Firstly, is it primary or secondary material? If it's a case, or a piece of legislation, it's primary. If it's anything else, it's secondary. Then, does it have an ISBN? If it has, it's referenced in the format for a book. If it hasn't, it's referenced in the format for things which aren't books. And that's that. Simple, right?
No.
OSCOLA requires the use of footnotes. Footnotes? How do you insert those into an essay? How do you make the little superscript numbers appear? How do you know how much space to leave for them? It's all too easy to fall into panic mode… but relax, Microsoft Word can do all this for you! If you need help with the practicalities of using footnotes (and let's face it, when else would you ever need to know about using them?) feel free to ask at an Information Desk and we'll show you.
The complexity of creating OSCOLA references isn't something I want to talk about here. What I'd like to reflect on is the sense of confusion, the sense of approaching panic, and the actual moment of fear when we were asked to create an OSCOLA reference for a randomly assigned item from our collection. Sometimes, I'll admit, it's all too easy to feel comfortable in our years of experience, with our bank of knowledge and recollections of previous enquiries. Stepping outside the familiar, putting ourselves in the proverbial shoes of our students, is such a valuable thing. It refreshes our motivation, reminds us why we do what we do. And that's why this kind of training is so vitally important.
Just no-one mention Vancouver referencing too loudly, eh?
---
For help with referencing in all formats used here at UoP, please see our referencing pages here: http://referencing.port.ac.uk/, contact elibrary@port.ac.uk, use our online chat service, or visit us at an Information Desk during opening hours.
Photo by papertrix