Creative Arts Book of the Week 06/03/15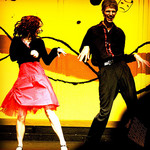 With everyone talking about their favourite book for World Book Day (5th March), I thought I would tell you, instead, about a generous collection of performing arts-related books acquired from Professor Stephen Banfield by Ben Macpherson, in the School of Media and Performing Arts.  Ben secured this collection for the benefit of staff and students on the BA(hons) Musical Theatre  course.  It is a relatively new course but colleagues are working hard to build the library collection in this subject area.
New additions include New York Musicals of Camden and Green, Stephen Sondheim's Finishing the Hat, Lavenheimer's South Pacific, McHugh's Loverly, Carter's Oklahoma, Suskin's Show Tunes, 1905-1991, Broadway Musicals of the 1930's: Sing for your Supper and the Blackwell Guide to Musical Theatre. They will make it on to the library shelves shortly.
We are regularly ordering lots of new books and scores.  If you've spotted something interesting that you would like to recommend for library stock, then contact Greta Friggens your Faculty Librarian.  Don't forget that we have some really useful online resources too. There's your key journal, Studies in Musical Theatre, key database – to find lots of other online journal articles, International Bibliography of Theatre and Dance and there are more sources on the Performing Arts subject page.
Photo by Omega Man