Interlibrary loans – everybody gets five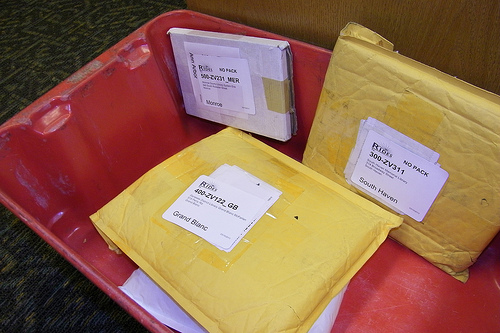 Interlibrary loans are a way of quickly obtaining articles, journal issues and books you need but that we do not hold in stock.
Everybody gets five (Masters students get 15 but you have to come and ask us to make them all available to you, which only takes a moment).
Book chapters and journal articles are scanned and sent to you as secure email attachments.  You can save these to your laptop and keep a copy for up to three years, although if you do that with a University computer you have to log into the same computer to find the document again even if you save it to your N-drive!   Electronic interlibrary loans are a new technology and so we always recommend you print a copy of articles and chapters when they arrive so you always have a copy reliably available.
You will receive an email when books and journal issues arrive – these may be collected from the Welcome Desk in the Atrium.
For full details, see http://www.port.ac.uk/library/services/interlib/
Photo by cseeman