Happy Chinese New Year!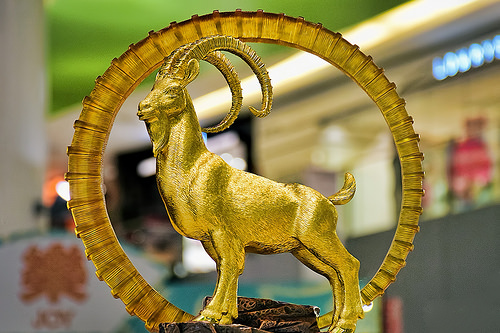 Happy Chinese New Year!  Today marks the beginning of the Chinese Year of the Goat.   We hope our international students enjoy the occasion and celebrate in style.
The Chinese zodiac comprises twelve animals: Rat, Ox, Tiger, Rabbit, Dragon, Snake, Horse, Goat, Monkey, Rooster, Dog, and Pig.  According to Chinese astrology, each year (starting from Chinese New Year) is associated with an animal sign, the animals revolving through a 12 year cycle.
Enter the goat… or is it the ram?
This coming year is known alternatively as the year of the goat, sheep or ram because in Chinese, the name/word 羊 (shānyáng) is a generic term that can refer to a number of similar animals, including goats, sheep, antelopes, and more.  Most believe the zodiac animal is a goat because the Chinese zodiac was devised by the Han Chinese who were familiar with goat, but not sheep, farming.
People born in a goat year are believed generally to be gentle mild mannered, shy, sympathetic, good natured, and overflowing with kindness and integrity.  They are sensitive in nature and are very creative.  They may look soft on the outside but can be tough and opinionated.
New year's preparations
In the days before Chinese New Year, people do a complete cleaning of the house; this signifies the removal of the old and welcoming of the new. After cleaning, houses are decorated to welcome the New Year. Decorations are mainly red in colour. Join in the celebrations and make your own
http://youtu.be/ACOdN1c4z80
Celebrating Chinese New Year
The most important element of Chinese New Year is the reunion dinner, which is held on the eve of the New Year.  Family members will come together for a meal in the parents' or eldest brother's home.  The reunion dinner is usually lavish, with several courses including dishes of chicken, pork and fish.
Shou Sui means "after the New Year's Eve dinner"; family members will usually stay awake during the night.  According to Chinese mythology, a daemonic beast called Nien (also the Chinese word for "year") would arrive at midnight on New Year's Eve and attack people, animals, and property.  Reputedly afraid of fire, the colour red and loud noises, Nien is conveniently scared away by vibrant red decorations, fireworks, and all night celebrations!
Photo by chooyutshing