Happy birthday Charles Lutwidge Dodgson!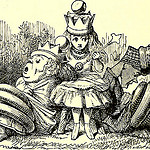 This week marks the birthday of Charles Lutwidge Dodgson (27 January 1832 – 14 January 1898), otherwise known by his pen name Lewis Carroll. Alice in Wonderland was one of his most famous children's books and this year is it's 150th anniversary.

Vintage books are releasing a special 150th anniversary edition with Dame Vivienne Westwood designing the cover and writing the introduction. Alice in Wonderland is one of her favourite children's books. See this link for further information:
http://www.vintage-books.co.uk/books/178487017x/lewis-carroll/alice-s-adventures-in-wonderland-150th-anniversary-edition-with-dame-vivienne-westwood-/
The below film clip has been lovingly restored by the British Film Institute. It was the first Alice in Wonderland film ever made and was released over 100 years ago in 1903.
'"I don't think…" then you shouldn't talk, said the Hatter.'
― Lewis Carroll, Alice in Wonderland    
A selection of works by Carroll can be found in our Library collection.
Photo by Internet Archive Book Images