Wireless Problems in the Library – Update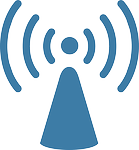 Information Services are working hard to resolve the ongoing issues with wireless connections. We have been told that starting on Monday 15th December and continuing over the Christmas vacation IS and external contractors will be replacing some of the access points and installing a number of new ones throughout the building. They will be concentrating on the student facing areas initially but access points in some staff areas will also be changed. It is hoped that this work will improve coverage through the building leading to less drop outs as students move between the floors.
An upgrade to the firmware controlling the wireless network is planned for early in 2015 and this should improve connection times.