Today is… Human Rights Day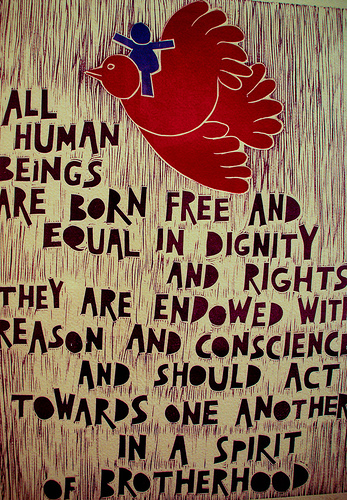 In 1950, The United Nations declared 10 December Human Rights Day to focus the attention 'of the people of the world' on the new Universal Declaration of Human Rights as the common standard of achievement for all people and all nations.  This year's slogan, "Human Rights 365", encompasses the idea that every day is Human Rights Day.  It celebrates the fundamental proposition in the Universal Declaration that each one of us, everywhere, at all times is entitled to the full range of human rights, that human rights belong equally to each of us and bind us together as a global community with the same ideals and values.
Criticism
This treatise underpins international agreements offering overarching protection for basic rights to life, liberty and diversity across the world but has since been attacked (for example by The Center on Law & Globalization and more comprehensively still by Andreopoulos (2014)) as less effective than was originally hoped because it rapidly became so all-encompassing, lacked specificity and an effective regulatory framework for enforcement, has led to legislation shaped by governments that excuse their own shortcomings, and forced developing countries to juggle competing human rights priorities with high and absolute standards from education and personal security to freedom of expression that might not always all be achievable.  Yet it still stands an ongoing statement of intent that all people should enjoy basic rights and freedoms.
Photo by riacale