Extra, extra – read all about it!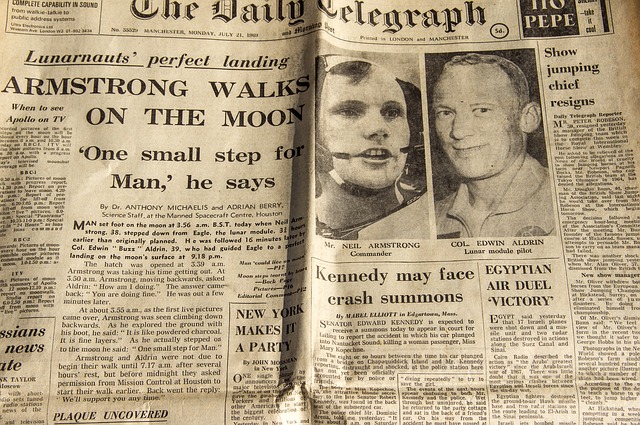 Newspapers document events and social trends, forming valuable sources of contemporary and historical opinion as well as a record of journalism styles and traditions over time.  Our media collections have been recently expanded, so it is well worth taking a moment to explore all we have on offer…
The latest printed newspapers
Great for keeping abreast of current affairs over coffee, you can find the latest daily national newspapers on the display shelves near the Library café, including the local Portsmouth News.  We offer not only daily national newspapers in print as well as the local Portsmouth News but also access to news and newspaper archives offering searchable archives of either the text content or in many cases the scanned pages of newspapers through time.
Comprehensive but with only text
Offering a powerful search of the full text of regional and national newspapers from across the UK, Europe, the USA and Australasia dating from the 1980s onwards. This very comprehensive resource only offers the text content – images and layouts are not available.
Searchable full-text scanned images
Many resources include scanned images of the original newspapers and magazines, allowing an analysis of layouts and images.
Over 150 national and regional newspapers extending from the nineteenth and into the early twentieth century.  Titles include the Morning Chronicle (1801-1865), Southampton Herald (1830-1900), Hampshire/Portsmouth Telegraph (1800-1900), Portsmouth Evening News (1878-1904).
Search for stories or browse the paper on particular days, including special editions published in connection with Queen Victoria, George V, Elizabeth II's coronation and Winston Churchill.  Coverage after 2004 continues in Nexis UK
The best way to trace newspapers across the world.
200 years of scanned images of what was published each day.  You can view original layouts and see articles exactly as they originally appeared.
Scanned images of what was published each day from the Daily Express and Daily Mirror from the early 1900s onwards featuring original layouts so you can see articles exactly as they originally appeared with the original photographs and other images.  A valuable insight into the tabloid view of politics.
Magazines
Two series covering New Readerships (Women's, Children's, Humour and Leisure/Sport) and Empire (Travel and Anthropology, Economics, Missionary and Colonial) offer full-text scanned articles from British magazines covering the events, lives, values and themes that shaped the 19th century.