When renewals (or reservations) fail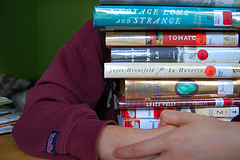 You should be able to renew your loans online even when you have accumulated a small fine on your account but sometimes you might not be able to renew your books online or reserve books that you want if you have even a very small fine.
Please don't worry.  If this happens, get in touch straight away.  We can quickly and easily renew your books at a staffed desk or over the phone and we can also reserve books for you.
If you cannot renew your books and you do not get in touch, your fines will grow larger and may eventually prevent you from borrowing or renewing your books at all.  If you have such a large fine you are strongly recommended to get in touch with us because we can waive the fine if you have a good reason for being unable to renew your books or else work with you to find the most affordable way for you to pay.
Photo by sleepyneko