Home is where the Art is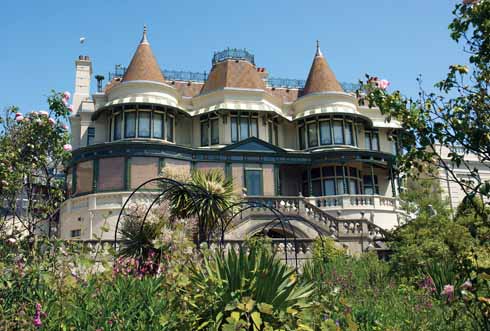 A Visit to the Russell-Cotes Art Gallery and Museum, Bournemouth
If you like Victorian art then you are in for a treat. Go for the day from Portsmouth or make a weekend of it and visit the gallery on Saturday and Sunday. Closed on Mondays except Bank Holidays.
Image courtesy DorsetLife
You can take photos so long as the flash is switched off. There is a coffee shop with a selection of home-baked cakes; and newspapers if you want to sink into a comfy old Chesterfield for an hour, a lift (should you need it after the cakes) and lockers for bags and coats if you decide you don't want to carry them around the galleries.
See a video about the gallery collection here: https://www.youtube.com/watch?v=FR9n6eFaz94
The building itself is a beautiful example of a late Victorian villa which was completed in 1901 as a birthday present for his wife Annie by the wealthy Merton Russell-Cotes (later Sir). The villa was originally named East Cliff Hall.
Sir Merton Russell-Cotes (1835–1921), and Lady Annie Russell-Cotes (1835–1920)
by Frank Richards
Image courtesy Bournemouth Town Hall, Mayor's Parlour
Perched on top of the cliffs the villa has stunning sea views and the maze of rooms contain a wealth of art and artefacts from around the world. Both Annie and Merton were adventurous travellers and serious shopaholics. Their visit to Japan culminated in 100 crates of purchases so they needed a large house to store their treasures. A couple after my own heart! For further reading on the ideal of Victorian domesticity and architecture see: http://capitadiscovery.co.uk/port/items/975803?
Merton was astute where art was concerned. He bought and sold at will, both for love and investment purposes. When he got bored of a painting he simply sold it on but was always mindful of its value, both in terms of money and cultural heritage.
To read more click on this link: http://russell-cotes.bournemouth.gov.uk/Explore-The-Collections/The-Art-Collection.aspx
The couple decided to leave their home and collection to the people of Bournemouth. Merton died in 1920 and Annie a year later. In 1922 Bournemouth Borough Council opened their home to the public as a museum and art gallery.
There are nearly 1000 paintings in the collection although some will be in storage or loaned out to exhibitions. Wouldn't it be interesting to visit the store rooms…..?
If you look on the BBC website at the Your Paintings pages you will see some beautiful images of the collection.  You can also search by artist name.  Don't forget to reference them properly if you want to use any in your work.  http://www.bbc.co.uk/arts/yourpaintings/galleries/locations/russell-cotes-art-gallery-museum-3279
Look at our referencing pages for help: http://www.referencing.port.ac.uk/pages/ref136.html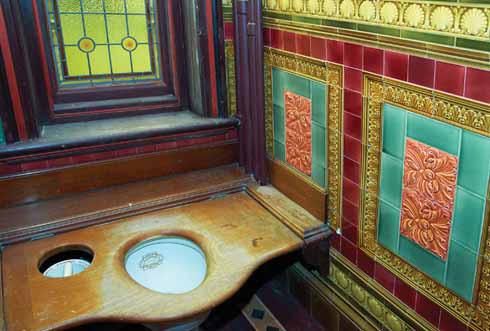 On the ground floor, ladies must visit the 'Lily Langtry loo' if only to admire the original décor and the mahogany seat where Lily once sat. There is a good chance this story is true as she and the Prince of Wales shared a 'love nest' close by.
Image courtesy http://www.dorsetlife.co.uk/2013/12/%E2%80%98a-house-after-my-own-heart%E2%80%99/
The Red House is now a reputable hotel instead of a house of ill-repute.
http://www.historic-uk.com/PropertySearch/The-Langtry-Manor-Hotel-Bournemouth/
For photos of the famous actress see:
http://blog.ukauctioneers.com/2013/04/album-of-king-edward-viis-lover-lillie-langtry-is-uncovered-after-135-years-to-sell-at-auction/
For those of you interested in the formidable talents of William and Evelyn De Morgan you shouldn't miss the current exhibition located in two of the galleries. 'The De Morgans and the Sea' features some of their paintings and ceramics. Many belong to the Russell-Cotes collection but some items are on loan from the main De Morgan collection in Wandsworth, South East London. http://demorgan.org.uk/collection
We have a book on William De Morgan in the library:
http://capitadiscovery.co.uk/port/items/118617?
The only downside to this wonderful exhibition was that some of the Russell-Cotes paintings had been removed and my favourite was on tour in Japan.
http://www.bbc.co.uk/arts/yourpaintings/paintings/midsummer-58771
There will be a talk about this painting on 21st June:
http://www.russell-cotes.bournemouth.gov.uk/Whats-On/The-Cult-of-Beauty-In-Conversation-with-Dr-Esme-Whittaker.aspx
For more information on the De Morgan exhibition click here:
http://www.russell-cotes.bournemouth.gov.uk/News/The-De-Morgans-and-the-Sea-News-Release.aspx
Aurora triumphans by Evelyn De Morgan
Image courtesy of Russell-Cotes Museum and Art Gallery
Many of their images are on our Bridgeman Education image database.  http://capitadiscovery.co.uk/port/items/888009 and search for De Morgan.  The exhibition finishes on the 28th September.
To read a more detailed review on the Russell-Cotes Museum and Art Gallery visit:
http://www.dorsetlife.co.uk/2013/12/%E2%80%98a-house-after-my-own-heart%E2%80%99/
There are also some modern paintings that have been either bequeathed or gifted to the collection.
http://russell-cotes.bournemouth.gov.uk/Explore-The-Collections/Legacy.aspx
The next show is planned for the autumn and is entitled 'Dangerous Women: Kauffman to Emin'.
If you want to find out more about decorative arts in the Victorian era why not investigate Leighton House and 18 Stafford Terrace, both in London:
http://www.rbkc.gov.uk/subsites/museums.aspx
STOP PRESS: A new exhibition at Leighton House in London
http://www.theguardian.com/artanddesign/2014/jun/02/juan-antonio-perez-simon-victorian-art-collection-leighton-house
For ideas on creating your own Victorian living space try this library book for inspiration: http://capitadiscovery.co.uk/port/items/583284?
Opening Times
Open: 10am to 5pm, Tuesdays-Sundays & Bank Holiday Mondays
Closed: Mondays, Good Friday and Christmas Day
Free admission: 1 October – 31 March. Donations welcome
Seasonal admission charge: 1 April – 30 September. Gift Aid it.